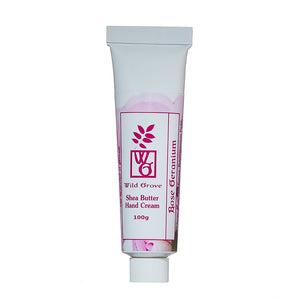 Shea Butter Hand Cream: Rose Geranium 100g
Everything here at Wild Grove is handmade in small batches in Bristol with a zero-waste attitude. Wild Grove products get their scent from high-quality essential oils and fragrances added for maximum freshness.
"Transport yourself to your imaginary summer garden with the delicate dreamy scent of English Rose and a touch of Geranium for a fresh green accent. This gentle, non-invasive smell is a safe bet for everyone!"
- Lisa, WG Founder
Rich shea butter and olive oil harmonise with luxury oils such as argan oil, borage oil and jojoba oil to create a luxurious base for our hand creams, which provides a balanced offering of nutrients and a protective layer for the skin.
Vegan
Palm oil-free
Sulphate free
Phthalate-free
Free from animal testing
Benefits
Our sulphate-free recipe results in a quickly absorbing cream with a grease-free, powdery finish. Perfect to use in your day to day life without waiting patiently for stubborn oils to sink in.
Have dry or irritated skin? We have you covered. Our hand creams are safe to use for acne- prone skin, eczema, dermatitis and psoriasis.
With a skin-loving formulation and distinct scent, our hand creams are a must-have for every pair of hands.
Our hand cream tubes and lids are 100% recyclable!
Vegan
Palm oil-free
Sulphate free
Phthalate-free
Free from animal testing
How to use
Apply small amounts to all dry areas of skin, allowing the cream to absorb for total soothing and softening action.
Make your skin look and feel happy and healthy without having to slow down or change your lifestyle. The 100 ml hand cream can be your at-home remedy, while the 30 ml version can be with you while away from home.
Our process

We create each hand cream in small batches by hand.
All of our hand creams are created with the same base blend of high quality oils, these are heated and emulsified together, eliminating any impurities and leaving a luxurious final product.

Lastly they are cooled and piped into aluminium tubes and sent straight to you.
Vegan
Palm oil-free
Sulphate free
Phthalate-free
Free from animal testing
Ingredients
​Ingredients: Aqua, Olea Europa, Butyrospermum Parkii, Cetearyl Alcohol, Emulsifying Wax NF, Argania Spinsosa,  Simmondsia Chinensis, Borago Officinalis Phenoxyethanol, Ethylhexylglycerin, Pelargonium Graveolens, Citronelllol, Geraniol, Linalool, Citral, Limonene.
Vegan
Palm oil-free
Sulphate free
Phthalate-free
Free from animal testing