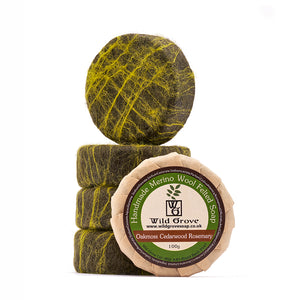 Oakmoss, Cedarwood and Rosemary Felted Soap
Everything here at Wild Grove is handmade in small batches in Bristol with a zero-waste attitude. Wild Grove products get their scent from high-quality essential oils and fragrances added for maximum freshness.
"This one will transport you to your dream forest where you can plant your feet firmly on the soft earth and inhale the perfume of trees. Oakmoss grounds the lighter, fresh Rosemary and Cedarwood gives it character." - Lisa, WG Founder

Our felted soaps are felted in merino wool and wrapped in bio-degradable packaging, making them a step up from standard soap bars.
These soaps are designed to be used with the merino wool exterior, so please don't cut it off!
Plastic-free
Palm oil-free
Sulphate free
Phthalate-free
Free from animal testing
Benefits
The merino wool exterior produces a rich and luxurious lather as well as offers a gentle exfoliation just as if you were using a washcloth wrapped around the soap.
While using the soap, the outside holds in soap that would otherwise be wasted, lengthening the life of your bar.
The easy-grip nature of our felted soap makes holding on to your bar far easier than with traditional soaps, making dropping soap a thing of the past, especially for arthritis sufferers!
Our felted soaps are plastic-free and zero-waste.
Reduce your carbon footprint with a simple solution, like switching from supermarket soap to Wild Grove felted soap.
Plastic-free
Palm oil-free
Sulphate free
Phthalate-free
Free from animal testing
How to use
These soaps feel right at home, in your bathroom, as either a hand or a body soap, and their quick-drying exterior makes them suitable for travel and camping.
Use our felted soaps just as you would use a normal hand or body soap.
Our process

We create each felted soap by hand.
Colourful, soft, ethically sourced Merino wool is loosely wrapped around the naked soap, immersed in hot water and agitated using surface texture to allow the fibres to knit together. This creates a soft yet gently exfoliating wash pad that shrinks along with the soap and dries very well between uses, particularly if left outside of the shower stall.
The felted soaps are then hand wrapped at our studio and sent directly to you.
Plastic-free
Palm oil-free
Sulphate free
Phthalate-free
Free from animal testing
Ingredients
Ingredients: Sodium Sunflowerate, Sodium Cocoate, Aqua, Glycerine, Sodium Stearate, Sodium Castorate, Sodium Lactate, Parfum, Cedrus Atlantica, Amyl Cinnamal, Citronellol, Coumarin, Limonene, Linalool.

Plastic-free
Palm oil-free
Sulphate free
Phthalate-free
Free from animal testing