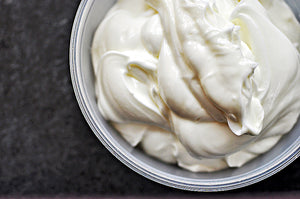 Dragonsblood Orange Clove Lotion REFILL 500g
Everything here at Wild Grove is handmade in small batches in Bristol with a zero-waste attitude. Wild Grove products get their scent from high-quality essential oils and fragrances added for maximum freshness.
"Revitalise your skin with our most popular scent blend all year long!  Dragonsblood is like a big warm hug with a slightly exotic, not quite masculine or feminine musk fragrance. Added Orange for a splash of vibrancy, tied together with a strong yet restrained weave of Clove. Ahhh, yes! " - Lisa, WG Founder

Our handmade lotions provide the perfect pick me up for tired skin, restoring all the moisture to dry hand and softening up even the toughest patches! These lotions serve an essential part of any skincare routine and shouldn't be overlooked by anyone!
Vegan
Palm oil-free
Sulphate free
Phthalate-free
Free from animal testing
Benefits
The star quality of our lotions is the finish. Most commercial lotions will leave you with a greasy or sticky finish, which feels unpleasant when continuing the rest of your day, our lotions are far superior, leaving the skin feeling smooth and revitalised!
Suitable for all skin types, these lotions contain minimal additives and use high quality preservatives to eliminate undesireable reactions for people with sensitive skin.
Our wide variety of oils in the ingredients bring a myriad of benefits for the skin, providing the widest range of nutrients and protection for your body.
Our lotions are sold in refillable glass bottles, making them a great eco-friendly alternative to buying from a supermarket!

Vegan
Palm oil-free
Sulphate free
Phthalate-free
Free from animal testing
How to use
A little goes a long way with our lotions, the quality of the oils means that much smaller amounts deliver the same soothing effects as a larger amount of a commercial lotion!
Pump a small palmful of lotion into your hand and gently massage into the dry areas of the skin. To maximise the benefits of our lotions, try to apply after a shower, your skin has the most moisture when it is wet, and our lotions works best when the skin is already hydrated.
You can even use our lotion alonside other oil based treatments, it will emulsify with the treatment and reduce the overall greasiness, lowering unneccesary discomfort.
Our process

We create each lotion by hand.
All of our lotions are created with the same base blend of high quality oils, including argan and jojoba! The oils and water are heated together to boiling point to purify and ensure eradication of any possible contaminants. They are then blended together to emulsify the mix, almost like a mayonnaise!
Lastly they are cooled and piped into glass bottles and sent to you, or poured into bulk containers to be sold at our stockists as refills!
Vegan
Palm oil-free
Sulphate free
Phthalate-free
Free from animal testing
Ingredients
Ingredients: Aqua, Olea Europa, Butyrospermum Parkii, Cetearyl Alcohol, Emulsifying Wax NF, Argania Spinsosa, Simmondsia Chinensis, Borago Officinalis, Phenoxyethanol, Ethylhexyglycerin, Parfum, Lavandula Officianalis, Citrus Bergamia, Citrus Sinensis, Citronellol, Coumarin, Limonene, Linalool.
Vegan
Palm oil-free
Sulphate free
Phthalate-free
Free from animal testing